Home > Blog >
Multisite Hack: These Keep Teams Connected
July 19, 2016
Multisite Hack: These Keep Teams Connected
By Stephen Smith
Multisite churches die when they become disconnected. No matter your model, if the geographical distance between sites manifests itself in relational distance as well, you've entered the downward spiral of hurt feelings, frustration, and possibly the dreaded "us vs. them" syndrome.
Thankfully, God created more than artists! He also created engineers, accountants, and attorneys. All of those skill sets work together to provide some great tools we can use on a weekly basis to keep teams talking.
This article is about two low cost tech hacks we can't live without.
This group text platform has changed the way we communicate during the week, but more importantly, during the weekend services across our locations.
Gizmodo's review is simple and to the point: "Lifechanger…utterly indispensable"
The three killer aspects of GroupMe is that it's free, its works across multiple devices/platforms, plus it works through SMS. I have several multisite groups we created to get teams talking.
Campus Pastors: This has replaced email as our primary method of keeping in touch, sending random photos, and encouraging one another.

Campus Teams: All five locations have their own groups so that I can easily reach out to a campus team on their device. Timing is sometimes key with these groups so it's great to have an app that loops us all in.

R.A.D.A.R.: (Real-time Adjustments Deletions and Reviews) Yes, it's a dumb name and I can count on one hand the number of people who probably knows what the acronym stands for. Jason Seifert, Director of Multisite Development, and I created this group of 24 key team members to encourage campus cross talk. We use this especially on the weekend for encouragement, reminders, and, as the acronym suggests—change stuff quickly.
Here is an example of some "chatter" on a random weekend this spring when we celebrated the birthdays of two of our staff members: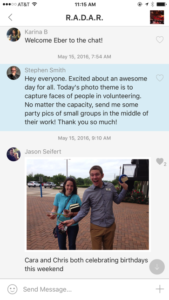 Before you judge, hear my heart! We recently networked a few Nest Cams throughout our locations and at our sending campus (the Loop). Cue the music:…duh, duh, duhhhh…. Let me address the Orwellians first. No, we are not spying on the worship leaders. No, there is no secret agenda to kill superfluous announcement times or bad illustrations (but if the shoe fits…), and no, we are not counting seats or hands raised during commitment times. We set up our network on the foundation of encouragement. Let me explain.
After touring "command centers" at Life.Church and the Rock Church in San Diego, we came away with a foundational principal that could pose a real problem: "Out of sight out of mind." Life.Church and The Rock understand the importance of real time communication with their locations and Campus Pastors. Our Production Team, headed up by Nick Rosenbaum, helped move the ball down the field when it came to visual connectivity.
Since we have a single secure network throughout all our locations, and the Nest Cam price point is relatively low, we thought the time to experiment had arrived. As you can imagine, seeing simultaneous events occur across the city became an immediate hit. Since each site can see the other sites across all devices, we got more excited about the possibility of decentralized cross talk and observation. The opportunity we now have to offer comment, encouragement, and feedback has significantly increased for relatively low cost. Jumping in and out of various gatherings has been a new and vital discovery in our journey to share a mind and a heart across the city. Here is screen shot from my phone of some of our venues. (Our Cypress Campus isn't included in the network yet because we are in school.)